The 3 Keys to Blogging Success!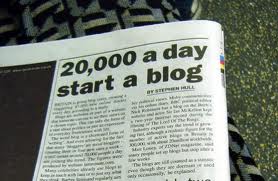 So, you're online and you have got your blog. Now what?
The very first thing anyone should think about when they first start any activity that requires dedication and consistency is, Why? Why are you doing it? Are there circumstances in your life that you want to change. Are there people you need to take care of and provide for? Do you have a message that you desire to get across in order to help other people? Why have you decided to embark upon the wonderous journey of blogging?
I ask this question and suggest you think about it very seriously because just like with anything in life when struggles and obstacles come along you need to have a strong enough reason to continue. I know, it's not the hardest endeavor to take on but if you start blogging you want to do it and do it right. After all, it's your reputation and you are the one that will be sacrificing the time and effort to make it successful.
I decided to discuss this in great depth because when you have a pretty clear understanding of why you are doing something and if it's strong enough, you won't quit easily. You will also put that extra effort in it to make sure that it is good quality and done right.
2. Clear and Daily Actions
When you decide that you need to be successful blogging and this is a way you have chosen to generate an income, you need to make sure your daily activities reflect your intentions. Create a schedule for yourself that you stick to as if it were a second job. Don't allow any excuses, treat yourself as if you have a boss who would fire you if you didn't do what was expected of you. Make your objectives clear, set deadlines and make sure you are accomplishing the results that you set forth in the time frame that you have given yourself. Of course, be realistic but by all means by serious.
When you decide to blog as a business, some of the core activities that you should be doing are; create good content, do keyword research, always stay abreast of current information in the area you chose to blog in, know your audience and know the needs of your audience. Syndicate; post your blog in as many appropriate areas as possible, join forums and interact, do email campaigns and list building. These are just some of the things that will help create success blogging.
As with most things consistency is key. The more you do something the better you get at it. The more content of quality that you create and share with the masses the more value you create. Hold yourself accountable, get an accountability partner if you have to. Determine to give yourself at least 90 days to do the required tasks to be successful blogging. Listen and read things that encourage you to keep going. Turn the t.v. off don't worry about your favorite show, make your life your favorite show. It's much more fun to live the life you want instead of sitting on a couch watching someone else live it.
Now what I am about to say fits in perfectly…..No matter what you do, know that you are a winner, do things to help reinforce this belief. They say it takes 21 days to make something a habit so as you blog for a mandatory 21 days (do it for 90 Days), develop a routine where you can have some quiet time and reflect on what you want to achieve with blogging. See yourself achieving it and pray or meditate, simply employ your faith, wherever it lies and there is no doubt, that you will be blogging your way to success from day one.
Wishing you all the best!
p.s. if you want to more tips and to plug into a community where you will get the support of people who have chosen to embark on this journey then join the $100 a day tribe to the right and connect to a whole new future, Seriously!